*
*
*
*
Edinburgh

Edinburgh is my home city. I was born here and have spent most of my life here. I am proud to have come from Edinburgh. It is the most beautiful city - wonderful architecture, great history, good shops, lots of parks and gardens, trees, etc.
One of my favorite places to go is 'Dynamic Earth'. This is an attraction which focuses on the earth, it's history, it's surroundings (i.e. the Universe), and it's life. You can experience the sensation of an earthquake with the shaking floors and some rooms have different climates, one tells you about the ice age and in the centre of the room there is a huge block of ice! If you ever come to Edinburgh, 'Our Dynamic Earth' is one thing I really recommend visiting.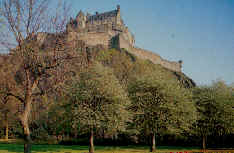 EDINBURGH CASTLE
Edinburgh holds a fantastic festival every summer, which includes the famous Edinburgh Tattoo, and is also the host of one of the worlds greatest hogmanay (New Year) parties
Edinburgh University. Are you interested in studying there? Visit the link to find out more
Also a hot topic within our local newspapers is the building of the new Scottish Parliament. Follow the link to learn more about Scotland's growing freedom.
Edinburgh now had a fab internet cafe. EasyEverything.com. It is huge, has 500 computers and is open 24 hours a day, 7 days a week, 52 weeks a year! It's well worth a visit if you are ever in Edinburgh